Jessica Corbett
The Mind Unleashed
Wed, 26 Feb 2020 05:09 UTC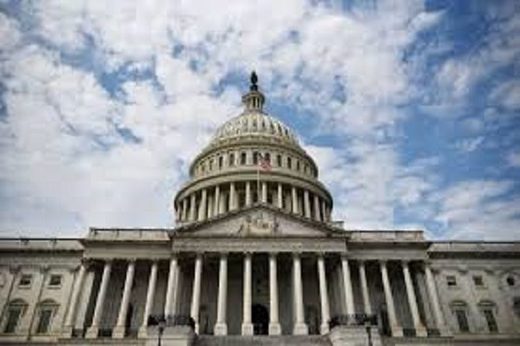 The House of Representatives on Wednesday passed a historic bill making lynching a federal hate crime — a vote that historians have said is more than a century overdue.
"Lynching is an American evil," tweeted Rep. Bobby Rush (D-Ill.), the bill's lead sponsor. "Today, we send a strong message that violence — and race-based violence, in particular — has no place in America."
H.R. 35, the Emmett Till Antilynching Act, passed the House overwhelmingly on a 410-4 vote, with Reps. Justin Amash (I-Mich.), Louis Gohmert (R-Texas), Thomas Massie (R-Ky.), and Ted Yoho (R-Fla.) voting "no." Sixteen representatives, from both sides of the aisle, did not vote on the bill.
It's been a long time coming, as the Washington Postreported:
The measure's passage comes after lawmakers tried, and failed, to pass anti-lynching bills nearly 200 times.

The earliest such attempt came in 1900, when Rep. George Henry White (R-N.C.), then the country's only black member of Congress, stood on the floor of the House and read the text of his unprecedented measure, which would have prosecuted lynchings at the federal level. The bill later died in committee.
Rush's fellow lawmakers congratulated him on passing the bill through the House while noting that it shouldn't have taken so long.
"For far too long, the House of Representatives has lacked the moral courage to designate lynching as federal crime," Rep. Jerrod Nadler (D-N.Y.) said in a statement. "While we cannot undo the abhorrent damage caused by decades of unjust lynching, today's passage of the Emmett Till Antilynching Act marks a meaningful step towards correcting our nation's history with this racist act of violence."
Rep. Karen Bass (D-Calif.), chair of the Congressional Black Caucus, said in a statement that it was a "travesty that it has taken 120 years since antilynching legislation was first introduced in 1900, for the United States government to address this issue."
"Lynching is an act of terrorism and was common for the 256 years during the period of enslavement of Africans in this country and for the 100 years after that period," said Bass.
Kristen Clarke, president of the Lawyers' Committee for Civil Rights Under Law, welcomed the passage of the legislation and pointed out that it comes as hate crimes are on the rise nationally.
"Given increased hate crimes, it is imperative that we remember the racial terror inflicted on thousands of Black Americans and acknowledge our history of racial violence," said Clarke.
The Senate unanimously passed anti-lynching legislation on February 14, 2019.
According to the New York Times, while the two bills will have to be reconciled, that's a formality and President Donald Trump is expected to sign it.
———————————————————
Flashback Germany End of WW II:
The Nuremberg Trials Were A "High-Grade Lynching Party" – Harlan Fiske Stone, Chief Justice of the U.S. Supreme Court
In all seriousness the Soviets, with the concurrence of the American, British and French judges, had the audacity to rebuke the Germans for having carried out deportations and used concentration camps or forced-labor camps!
After Germany's defeat in WWII, the Nuremberg and later trials were organized primarily for political purposes rather than to dispense impartial justice. Wears War brings to you each week a quote from the many fine men and women who were openly appalled by the trials. All of these people were highly respected and prominent in their field, at least until they spoke out against the trials.
French revisionist Dr. Robert Faurisson:
At Nuremberg the victors tried the vanquished; they were thus both judge and party to the case; they had decided beforehand that, if necessary, one would do without real evidence:
The Tribunal shall not be bound by technical rules of evidence […]. The Tribunal shall not require proof of facts of common knowledge but shall take judicial notice thereof […]" (Articles 19 and 21 of the Charter of the International Military Tribunal).
Moreover, the victors' justice violated the usages of normal justice in ignoring the separation of powers (some of those who took part in the drafting of the Charter went on to become judges and prosecutors), instituting collective responsibility (any member of a group declared "criminal" was automatically considered a criminal himself), implementing retroactivity of laws and denying those convicted any possibility of appeal. No representatives of the neutral nations were among the judges and prosecutors.
In all seriousness the Soviets, with the concurrence of the American, British and French judges, had the audacity to rebuke the Germans for having carried out deportations and used concentration camps or forced-labor camps!
Resorting to an additional specification of Article 19 of the Charter, the Soviet prosecutor got the judges to refuse any serious investigation of the crime in Katyn Forest imputed to the Germans. As for the principal Soviet judge, Major General I.T. Nikitchenko, he had served as prosecutor in 1936 at the previous judicial masquerades called "the Moscow trials," something that had not kept him from being recruited for Nuremberg.
At bottom, if one keeps in mind the crimes perpetrated against the German people by means of an air war aiming to exterminate civilians, if one recalls the deportations (called displacements) of the German minorities from Central and Eastern Europe, if one adds to that both the serial rapes of German women and girls (as happened, for example, at the age of twelve, to Hannelore Kohl, future wife of the chancellor; see Heribert Schwan, Die Frau an seiner Seite / Leben und Leiden der Hannelore Kohl, Munich, Wilhelm Heyne Verlag, 2011, p. 54-58), if one bears in mind the looting, the official grabbing by the Allies of Germany's silver, gold, platinum, jewelry, securities, properties, banks, museums, scientific and industrial patents and if, to cap it all, one notes that the Nuremberg trials of German leaders earned the description, by some, of "a farce" or, in the words of Harlan Fiske Stone, Chief Justice of the United States Supreme Court, a "high-grade lynching party," one can only find it deplorable that, for 66 years, our schools, universities and media have ceaselessly been telling us that, during the last world war, the victors represented Good and the vanquished, Evil.
Source: Faurisson, Robert, "The Victories of Revisionism (Part 2)," Inconvenient History, Vol. 8 (2016), No. 1; See also https://codoh.com/library/document/4031/?lang=en.
---
The second Five Year Plan began in 1932: Stalin also began his bloody war against peasants, which was called collectivization. Units of the Red Army would herd peasants and their families into railroad cattle cars and transport them to Siberia, the Urals, or Kazakhstan, where they were thrown out into the cold on the bare steppes. This operation was ordered by Stalin and executed by his deputy Molotov. Many years later, when Molotov was asked how many people were transferred during collectivization, Molotov answered:Stalin said that we relocated ten million. In reality, we relocated twenty million."
The Soviet collectivization of 1932-1933 alone is estimated to have resulted in 3.5 million to 5 million deaths from starvation, and another 3 million to 4 million deaths as a result of intolerable conditions at the places of exile. Read more here.
————————————————–
The Jewish War on White Europe
      by Brown Man's Burden
Christopher Jon Bjerknes
http://www.jewishracism.com
http://www.jewishracism.blogspot.com
The Jews are deliberately destroying America and Europe. They have always wanted to destroy Whites.
The Roman Empire has left us dark haired and brown eyed Italians, who bear little resemblance to the Romans. Rome had many, many Jews, and doubtless they deliberately miscegenated with Romans to remove the Roman from existence. The same has happened to the golden-haired Greeks.
The Jews now want to flood Europe with Muslims. This is already, and predictably, happening in Italy with a planned flood of Tunisians, Egyptians and Libyans. The planned Union of the Mediterranean will exponentially increase the Muslimization and browning out of Europe.
Whites in America are being encouraged to adopt and marry Asians, and to mix with Mexicans and Blacks. It will only be few generations more of this before Whites will disappear.
But the Jews have no love of the mutts they are making. The Jews believe that by mixing different races, they remove both the guardian angels of the human organism and their gods, leaving them defenseless against Jewish genocidal aggression, as I explained here:
"As Above, So Below!" The Jews Are Out to Destroy the Guardian Angels of the Goyim, the Animals and the Plants. . . to Destroy All of Creation, July 23, 2009
The Jews want to destroy all life with genetically corrupted and mixed organisms so as to also destroy all gods other than the Jewish god, and all guardian angels. The Jews also want to steal all the gold in the World and place it in the Temple of Hell they plan to build where the Dome of the Rock now stands.
Beware Whites, the Jews want to eliminate you and your gods and angels, and it will only take a few generations for them to accomplish this task. The Jews are filling the heads of the Browns of the World with a burden to eliminate Whites. They are creating international and internal hatred of America and Europe and of Whites. Face this very real danger, or die out.
===========================
http://jewishracism.blogspot.co.il/2011/02/brown-mans-burden-jewish-war-on-whites.html
==============
=============================
WAR ON EUROPE!
Jews Importing Millions Of 3rd World Migrants For The Final Genocide Of The White Race
ONGOING INVASION: AS WE SPEAK THERE ARE HALF A MILLION INVITED NON-WHITE INTERNATIONAL MIGRANTS, WELL-FED MOSTLY MEN FLEEING FROM NOTHING, BUT RESPONDING TO 3RD-WORLD-WIDE JEWISH MISCEGENATION ADVERTISING ON PRODUCTS FROM MOBILE PHONES TO POLITICAL PROPAGANDA AND TO JEWISH INTERNET 'BLACK BRED' INTERRACIAL PORNOGRAPHY DEPICTING BLACK MEN WITH WHITE WOMEN IN THE WEST. MIGRANTS WITH MONEY TO PAY THE TRAFFICKERS TO ASSIST THEM IN GRASPING THE OPPORTUNITY TO LEAD AN EASY LIFE ON FREE HOUSING AND BENEFITS IN THE FIRST WORLD. INVADERS AND COLONISERS NOW GATHERED IN QUEUS AT LIBYAN AND ALGERIAN PORTS WHERE CURRENTLY UNIDENTIFIED NGO's ARE FEEDING AND WATERING THEM.
THE JEWISH ENEMY WITHIN THE GATES:

EUROPE IS NOW UNDER ATTACK AS ONE MILLION THIRD WORLD IMMIGRANTS, MAINLY AFRICANS, CURRENTLY ON THE MOVE, WITH MORE MILLIONS TO FOLLOW, MAKE THEIR WAY TO THE CONTINENT IN A CAREFULLY CO-ORDINATED PLAN BETWEEN TRANSNATIONAL JEWISH FINANCE, GOVERNMENTS, LOCAL AREA AND DISTRICT COUNCILS AND THE VAST CRIMINAL NETWORKS ACROSS THE THIRD WORLD WITH WHOM THE LARGEST MAFIA IN THE WORD; THE JEWISH MAFIA, HAS BEEN DEALING WITH, CO-ORDINATING HUMAN TRAFFIC WITH AND TRADING IN ARMS AND DRUGS WITH SINCE THE COMMENCEMENT OF GLOBALISM.
FOCUSSING ON BRITAIN IT IS THE REMOTER AREAS WHICH ARE NOW BEING TARGETED TO ENSURE THERE IS NO REFUGE FOR THE WHITE MAN IN ANY PART OF THE JEWKNIGHTED KINGDOM. THE SCOTS SHEEPLE WHO WERE TRICKED BY JEW ALEXANDER SOLOMON TO VOTE IN THE GENERAL ELECTION TO THROW OPEN IT'S DOORS TO IMMIGRATION NOW FACES THE POSSIBILITY THAT THE INDIGENOUS SCOTS PEOPLE COULD BE A MINORITY IN THEIR OWN LAND WITHIN TWO YEARS. NORTHERN IRELAND'S TOWNS ARE REPORTEDLY FILLING WITH YOUNG COUPLES OF SOMALI APPEARANCE WHO POSSIBLY ARE MIGRATING EN MASSE FROM ETHIOPIA. IN ANY CASE THE LOCAL PEOPLE ARE NOT BEING INFORMED OF ANYTHING AND SIMPLY HAVE NO IDEA WHO THESE BREEDERS, ALL OF WHOM'S WOMEN HAVE CHILDREN IN PRAMS ARE COMING FROM, NOR DO THEY DARE ASK OR EVEN PRIVATELY COMMENT ON FOR FEAR OF BEING CALLED RACIST. IN EVERY CASE ACROSS EUROPE THE IMMIGRANTS ARE GIVEN FREE CLOTHES, MOBILE PHONES, HOUSING AND EVEN MOTOR VEHICLES BY THE SOCIAL SECURITY AGENCIES.
THE FACT THAT THIS IS A CAREFULLY CO-ORDINATED PLAN IS OBSERVED BY HOW SEAMLESS AND TOTALLY LACKING IN ANY VISABLE ELEMENT OF CHAOS THE OPERATION IS. A SMOOTH, SILENT INVASION WITH ALL THE POTENTIAL SNAGS WELL IRONED OUT IN PREVIOUS TEST CASES IN CHOSEN AREAS.
THE INDIGENOUS WHITE PEOPLE OF EUROPE AND THE WHITE PEOPLES OF AMERICA, CANADA AND THE AUSTRALIAS ARE NOW UNDERGONG THE SECOND STAGE OF THEIR MASS GENOCIDE, A DEADLY EVIL CONSPIRACY WHICH WAS AGREED AT THE HIGHEST LEVELS AND IN THE GREATEST DETAIL UNDER THE GOVERNMENTS OF WINSTON CHURCHILL AND DELANOR ROOSEVELD, A PACT MADE WITH INTERNATIONAL JEWISH FINANCE IN 1940. AN AGREEMENT WHICH LED TO THE CREATION OF THE JEW-EU.

In very European country local newspapers, local broadcasters, local councils and community organisations, major broadcasting networks and the mainstream media are silent about the true impact and real sources of the huge invasion and assault on Europe now taking place. All this under the cover of a news blackout of any discussion as to it's real outcome and effect. Yes, they will sometimes make a play of seeming not to let them in for the benefit of the media. Yes, we see the pictures of the boats bringing tens of thousands of people in ever week, but it is all sold us to as some sort of wonderful Christian and humanitarian act endorsed by people like the Marxist Jew-loving traitor pope in Rome, while on the other hand the great reassuring celebrities, commentators, news anchors, comedians and figures of broadcasting behave as if nothing serious is happening at all, or at least nothing to worry about and it is life as usual, the big party of debt-funded, modern, free, multigender, multiracial, diversity wonderment just goes on. Meanwhile the Judaised Judaeo-Christian churches and schools implore the faithful to 'welcome the stranger' 'turn the other cheek' 'love thy neighbour' and presumably just die out to make way for them.
You don't need to set off an event like this by informing the relevant authorities and 'stakeholders' from the top. You simply prepare them in advance in all the necessary components smuggled into such modules as 'diversity training.' There is no need for an open conspiracy when it can be done through the abuse of mass psychology all across the lower levels. No one is aware what the engine they are running is really for until it is far too late.
FIVE STAR TREATMENT FROM THE TRAITOROUS ITALIAN NAVY OPERATING UNDER INSTRUCTRIONS FROM IT'S BOUGHT AND PAID FOR GOLDMAN SACHS GOVERNMENT, BRING THE MIGRANTS IN, GIVE THEM HEALTH CHECKS, NEW CLOTHING AND MOBILE PHONES AND THEN DISPATCH THEM INTO THE ARMS OF AUTHORITIES ACROSS CENTRAL EUROPE TO BE ALMOST INVISABLY MERGED INTO THEIR POPULATIONS.
And yes, no doubt we will receive little reassurances that the EU or NATO will perhaps, maybe send forces to North Africa to stop the boats, but it is nothing more than a sop to the stupid masses to shut down their minds and help them concentrate on more important issues like the latest football championship or who is going to win the current TV gameshow. Meanwhile the long knives of the kosher butchers are being sharpened for their ultimate demise.
And meanwhile all the apparatus of the state and entities like NGOs and charities are taking part in the scheme, especially the councils, many of whom in country areas have just recently centralised in order to no longer have be answerable to their constituents. Places like Northern Ireland have completely lost any accountability with the ending of local police forces and McPolice stations operating in towns with no local accountability and only three centralized offices, which serve whole regions. The regime is distancing itself from the people with the excuse of financial savings in the public sector sold to the British sheeple as a way for the Jewish government in Westminster to be able to give tax cuts to 'hard-working families.'
ENDZOG CALLS ON ALL WHITE NATIONALISTS, NATIONAL SOCIALISTS AND FASCISTS TO BEGIN PREPARING THEIR MINDS FOR A WAR FOR THE DEFENCE OF EUROPE. A WAR TO EXPEL THE JEWS AND THEIR THIRD WORLD IMPORTS AND A WAR TO SAVE THE WHITE TRIBES WHICH COMPRISE THE WHITE RACE IN EUROPE, TO SAVE OUR LANDS AND OUR CIVILIZATION FROM A CERTAIN DESCENT INTO THIRD WORLD CHAOS IN WHICH THE JEW THROUGH HIS CONTROL OF MEDIA AND EDUCATION WILL INCITE HIS BATTALIONS OF COLONISERS AND INVADERS TO WIPE OUT THE WHITE RACE ALTOGETHER TO MAKE FOR THEIR LONG-PLANNED AND LONG-AWAITED JEW WORLD ORDER.
BEHIND THE CURTAINS OF THEIR LIVING ROOMS ACROSS THE LENGTH AND BREATH OF BRITAIN AND EUROPE, JEWS AND IMMIGRANTS ARE DANCING WITH JOY THAT AT LAST THE DAY OF THE WHITE MAN AND HIS INCREASINGLY TENUOUS TENURE OF EUROPE IS COMING TO AN END. THE HOUR OF CONQUEST, COLONISATION AND THE FINAL SETTLEMENT OF THIRD WORLDERS IN A JEW RULED EUROPE DRAWS NEAR. EVERY DAY THE IMAGES IN THE NEWSPAPERS, IN ADVERTISING AND ON THE TELEVISION WILL SHOW LESS AND LESS WHITE PEOPLE AS WE ARE GRADUALLY RUBBED OUT AND RUBBED OFF THE LANDSCAPE OF WHAT ZOG CONSIDERS TO BE 'REAL MODERN BRITAIN.'
AND WHEN BRITAIN GOES BLACK THE MONARCHY AND THE UPPER WHITE CLASSES WILL BE PURGED AS ALL MONARCHIES AND USEFUL IDIOTS OF THE CLASS WHO NOW CONSIDER THEMSELVES SO SAFE AT OUR EXPENSE ARE EVENTUALLY PURGED, AS THE RUSSIAN MONARCHY AND ARISTOCRACY AND BUREAUCRATIC CLASS WAS PURGED, PART OF A WELL TRIED PROCESS OVER HISTORY GIVEN ONLY A MATTER OF TIME AND CIRCUMSTANCE FOR THE PATIENT JEWISH BOLSHEVIK PARASITE. UNLESS OF COURSE THE JEWS DECIDE TO RETAIN THE INCREASINGLY JEWISH ROYAL FAMILY AS A JEWISH FAMILY.
MOTIVES FOR MIGRATION EXPOSED BY SHAHEED MUAMMAR GADDAFI. THE MAN THEY KILLED IN ORDER TO OPEN THE FLOODGATES OF MIGRATION TO EUROPE:

MEANWHILE ALL EUROPEAN GOVERNMENTS ARE REFUSING TO ALLOW WHITE SOUTH AFRICANS TO SEEK POLITICAL ASYLUM EVEN AS THEY ARE BEING DAILY RAPED, ROBBED AND BUTCHERED IN THEIR BEDS BY THIRD WORLD MANDELA-STYLE SAVAGES AND DARE NO WHITE GOYIM IN EUROPE ASK THE QUESTION "WHY ARE THE BLACKS COMING IN WHEN THE WHITES ARE REFUSED ENTRY?"
Comment from reader: "Brilliant article, I drive for a living here in Ireland and only a few weeks ago I saw a bus load of Africans being dropped off at 4am in a small Irish village. This is happening everywhere while we sleep."
Suspicions are increasing that the ZOG regimes of Europe are now sending ships to the North African ports to collect the migrants instead of 'rescuing' them from boats.
ALL ACROSS EUROPE STUPID, JESUS-MINDED GOYIM ARE BEING FOOLED INTO TAKING MIGRANTS INTO THEIR HOMES. WHAT THEY DO NOT REALISE IS THAT THEY ARE SETTING UP AN ETHNIC CONFLICT IN THEIR OWN DWELLING THEY CANNOT WIN. MOST OF THE PEOPLE INVOLVED ARE FOOLISH SINGLE DIVORCED WOMEN WHO DO NOT REALISE THAT EVERYTHING ABOUT THEM WILL BE OFFENSIVE TO THEIR MUSLIM GUESTS AND THAT THE FAMILY THEY BRING INTO THEIR HOME CANNOT BE EVICTED BECAUSE THE REGIME WILL UPHOLD THE RIGHTS OF THE INTRUDERS WHILE THEY, AFTER FALLING OUT WITH THE CUCKOOS IN THEIR NEST (WHICH WILL ONLY BE A MATTER OF TIME), WILL END UP HOMELESS ON THE STREETS UNCARED FOR BY SOCIAL SERVICES OR THE CHARITIES WHO INDUCED THEM INTO SUCH A LEVEL OF ETHNICALLY-SUICIDAL FOOLISHNESS.
MARXIST JEW CONTROLLED HOUSING AUTHORITIES ALL ACROSS EUROPE WILL SIMPLY FACTOR THAT THESE MIGRANTS HAVE ALREADY BEEN HOUSED AND WILL GIVE UP-COMING HOUSING TO THE MILLIONS MORE 3RD WORLDERS EXPECTED TO FLOOD EUROPE. MORE AND MORE INDIGENOUS EUROPEAN WHITE PEOPLE WILL END UP ON THE STREETS AS THEY ARE DELIBERTALY DENIED HOUSING; A SITUATION ALREADY OCCURING IN PLACES LIKE LONDON.
THE BERLIN-BASED JEWISH SCAM WEBSITE THAT WANTS THE GOYIM IN EVERY EUROPEAN COUNTRY TO HOUSE THE 'REFUGEES.'
THE ANTI-WHITE GENOCIDAL JEW ACTIVIST SCUM BEHIND THE SCAM:
ICELAND; THE LONDON JEWISH GUARDIAN NEWSPAPER GLOATS AS A DERANGED ICELANDIC FEMINIST SET'S UP THE SCAM AND NETS ALLEGEDLY 12,000 ICELANDERS WILLING TO COMMIT ETHNIC SUICIDE. THE ARTICLE WRITTEN BY A JEW SHOWS HOW THE INTERNATIONAL JEWSMEDIA PRESENTS JEWISH AND JUDAO-MARXIST ACTION AS BEING REPRESENTATIVE OF THE VIEW OF WHITE PEOPLE WHO ARE IN REALITY OPPOSED EN MASSE TO IMMIGRATION.
THOUSANDS OF GERMAN-BASED JEWS, ANTIFA AND MARXISTS TAKE TO THE STREETS IN A CO-ORDINATED SCAM TO PRETEND TO BE REPRESENTATIVE OF THE GERMAN PEOPLE WHILE THE JEWSMEDIA SIMULTANIOUSLY RELEASE A PHONY SURVEY SAYING THAT MOST GERMANS WANT MILLIONS OF MIGRANTS BROUGHT INTO THE COUNTRY:
WHAT GERMAN NATIONALISTS AND MOST GERMANS THINK. NATIONALISTS DEMONSTRATE AGAINST MIGRANTS BEING BUSSED IN TO LARGE MIGRANT CAMPS AND CENTERS:
THE SCAM IN AUSTRALIA ALSO RUN BY JEWS:
http://www.thewelcomegroup.org/
PLEASE, BEFORE IT IS ULTIMATLY BANNED AND EXPUNGED FROM THE INTERNET LISTEN TO AND CIRCULATE ON SOCIAL MEDIA THE MOST IMPORTANT FILM AND MESSAGE FOR THE WHITE RACE OF OUR TIMES. MAKE SURE EVERY MEMBER OF YOUR FAMILY AND ALL YOUR FRIENDS WHO ARE INTELLIGENT ENOUGH OR UNBRAINWASHED ENOUGH TO WATCH IT DO SO, AND ALSO SHARE THIS POST ON SOCIAL MEDIA:
=========================
PLEASE, BEFORE IT IS ULTIMATLY BANNED AND EXPUNGED FROM THE INTERNET LISTEN TO AND CIRCULATE ON SOCIAL MEDIA THE MOST IMPORTANT FILM AND MESSAGE FOR THE WHITE RACE OF OUR TIMES. MAKE SURE EVERY MEMBER OF YOUR FAMILY AND ALL YOUR FRIENDS WHO ARE INTELLIGENT ENOUGH OR UNBRAINWASHED ENOUGH TO WATCH IT DO SO, AND ALSO SHARE THIS POST ON SOCIAL MEDIA:
========================
https://endzog.wordpress.com/2015/06/05/war-on-europe-jews-import-millions-of-3rd-world-migrants-for-the-final-genocide-of-the-white-race/
===================
====================================
Europe crumbles under the devastating Impact of Mass Immigration
End Times ?
Reality is the Left's greatest enemy.
Europe is bleeding. Misguided citizens are cheering for "diversity" and "tolerance" while the very foundation of their society is being eradicated and they're becoming a minority in their own country – fast. In some European countries the situation has become so dire that all the remaining sane citizens can do is watch their own country burn as resistance is not only becoming illegal but they're outnumbered by people that cannot wait to commit collective national suicide.
MUST WATCHhttps://www.youtube.com/watch?v=9c4Rvz5stHE=====================================================
=======================
While traveling through the Austrian-Italian border, Kamil Bulonis, a gay Left-winger who runs a popular Polish travel blog entitled "citizen of the world", was shocked to find that mainstream media has consistently lied about the illegal immigrants in Europe.
"Half an hour ago on the border between Italy and Austria with my own eyes I saw a great many immigrants … With all solidarity with people in difficult circumstances I have to say that what I have seen, arouses horror … " he wrote.
"This huge mass of people – and I'm sorry for what I write – but it's an absolute wilderness … Vulgar, throwing bottles, loud shouts of 'We want Germany' – Germany is now a paradise?"
"The coach in which I was in, the group tried to push over. Shit thrown at us, banging on the door to be opened by the driver, spat on the glass … I ask you, for what purpose? How is this wilderness to assimilate in Germany? I felt for a moment like in a warzone…"
"I feel really sorry for these people, but if they reached the Polish – I do not think that they will receive any understanding from us"
"The whole group was cordoned by police and transported back to Italy. The coach was butchered, smeared in faeces, scratched, broken windows. And this is supposed to be an idea of the demographics? These big powerful hordes of savages? Among them actually there were no women, no children – the vast majority were aggressive young men …"
"Just yesterday, when reading the news on all websites, they subconsciously compassionate, worried about their fate, and today after what I saw, I'm just afraid, and at the same time I'm glad that they do not choose our country as their destination. We Poles are simply not ready to accept these people – neither culturally nor financially. I do not know if anyone is ready."
"Never in my short life, have I had the opportunity to watch such scenes and I feel that it is only the start."
When anti-Whites have their world view smashed to bits, like Bulonis did, it is really demoralizing for them and it changes their views overnight.
There is hope for most White anti-Whites, because they are not traitors by heart – they are simply misinformed or "going with the flow".
As for the anti-Whites who have put White genocide in motion, they will be anti-White for the rest of their lives – hating White people is a religion to them.
=====================
http://whitegenocideproject.com/left-wing-polish-blogger-has-an-awakening-to-illegal-immigrants/
======================
=======================================
Illegal Immigrant murders elderly couple in Sicily
Illegal immigrants in Europe feel it is their right to go anywhere they want and make demands
=====================================================
Quote of the Week
by brian boru at
http://incogman.net/2015/09/remember-this-on-labor-day/comment-page-1/September 7, 2015 at 5:15 am===============================
"As has been stated many times on here and elsewhere, niggers are only a symptom of what is wrong in our societies. They are a sub-human race who are incapable of adapting to or performing in a civilised society. It is stupid to expect them to behave like whites because they are simply not equipped by nature to do so. They are no more advanced today than they were hundreds of thousands of years ago. If they had never had contact with us they would be living in Africa in relatively small population groups and having no more effect on the environment than any of the other large fauna that have roamed the continent back into the mists of time. Through short-sightedness on our part and malicious scheming on the part of our mortal enemy, the jew, they have been infiltrated into our societies. If they were ever to be accommodated our ancestors knew that they had to be strictly segregated and ferociously controlled, as their own leaders have always done in their primitive societies. Irrational liberals and religious types have always felt compelled to go against the natural order and try to civilise these creatures and have always failed. It is one of nature's greatest tragedies that we are able to interbreed with niggers, with the resulting offspring giving the impression that they are actually human like us. There are over a billion negroids in the world today and that is a direct result of white interference in the natural order. The destruction of any infrastructure, and more critically, the environment in any areas where this race congregates is directly the result of that white interference. In a rational world, and we certainly don't live in one, this situation would never have occurred.
The real causes of what ails us comes from that malignant, parasitic life-form, the jew, and the degenerate moral character of white people. The catastrophic wars of the last couple of hundred years destroyed some of the best white genetic material. Today, even with the vast amount of information available to us on the internet, most whites actively avoid learning the truth about what has happened in the past and is happening now. Even if they are aware of the source of our troubles they still choose to avoid taking any effective action to deal with it, they can hardly be made to even discuss it. The current invasion of all white homelands in Europe and North America by millions of humanoid trash from Asia and Africa cannot spur any effective action. The rational response to what will effectively terminate white civilisation and in turn the white race is to bomb and machine gun the swarms of invaders and slaughter those who are already here. Nothing else will do. What we are witnessing is our genocide in action in plain sight for all to see. This did not just happen; it was made to happen and is clearly and directly designed by the jew to destroy us and everything our ancestors have created for us over thousands of years. Yet, what is the response of millions of the white sheep? In Dublin they are planning a parade to welcome 1,800 'refugees' and the liberal and commie crazies are demanding even more be taken in. In the UK a couple have decided to give up their home to house a family of invaders. The communist jew bitch in charge in Germany is eager to flood 'her' country with as many of the scum as want to come there so as to even more rapidly destroy the kikes' most hated branch of the white race. The communist and liberal maniacs in Scandinavia are even more extreme and blatant in their open desire to destroy the native people. Canada is, if possible, even worse.
The effects of what is happening are not something about which we can simply shrug our shoulders and carry on as if nothing much has happened. Our white world is going to be unrecognisable in ten years. The relatively comfortable life of white middle class is going to vanish, just as it has already for white working class in so many areas. The genocidal monsters who are doing this to us, both jew and white, are the only ones who are going to be living well in their protected communities. These vermin will then offer a solution to the disaster they have created. That will be the surrender of all our remaining freedoms so that their long held dream of a 1984 type world can be finally realised. This is what we are now faced with."
=============================
Watch Detroit change
http://archive.freep.com/interactive/article/20140722/NEWS01/140721003/THEN-NOW-Watch-Detroit-change-before-your-very-eyes=======================================================================
SAVE THE FUTURE FOR OUR WHITE CHILDREN !
Share this: