27 Feb, 2020 04:23 / Updated 2 hours agoGet short URL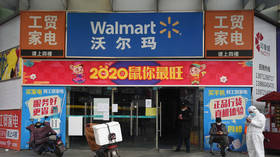 Workers are seen at an entrance to a Walmart store in Wuhan, the epicentre of the novel coronavirus outbreak, Hubei province, China February 25, 2020. © REUTERS/Stringer CHINA OUT.
Follow RT onThe Chinese Foreign Ministry has called for a meeting with a US embassy official after Secretary of State Mike Pompeo threatened to expel Chinese reporters working in the US, as the two sides become embroiled in a "press war."
"In recent years, the US government has adopted various restrictions on Chinese news organizations in the United States," said Hua Chunying, head of the Foreign Ministry's news department.
"If the US takes further harassment and restriction measures against Chinese news organizations in the US, the Chinese side will certainly respond further."
The stern statement comes after the Trump administration suggested it could expel hundreds of Chinese journalists operating in the US in response to Beijing's ejection of three Wall Street Journal reporters last week. Noting that Washington had "unreasonably offended and provoked China first," Hua said Beijing was now "rightfully" defending itself.
ALSO ON RT.COMUS considers expelling Chinese journalists over Beijing booting WSJ reporters as press war heats up
A February 3 opinion piece at the Journal dubbed China the "real sick man of Asia" and accused authorities of deliberately concealing the "true scale" of the COVID-19 outbreak that's infected tens of thousands in the country. Dubbing the op-ed "insulting" and "racist," Beijing gave its authors five days to leave China – prompting Washington to designate a number of Chinese media outlets working in the US as "foreign missions" on the same day.
"In the name of so-called freedom of speech, US Secretary of State Pompeo and others blatantly supported the serious mistakes of the Wall Street Journal, and made no distinction between right and wrong about China's fight against the new pneumonia epidemic," Hua continued, slamming the "threat of revenge against the Chinese media" as "unacceptable."
ALSO ON RT.COM'Unreasonable & unacceptable': Beijing slams Washington for press freedom hypocrisy after Chinese media branded 'foreign missions'
Think your friends would be interested? Share this story!
——————————————————-
From elections to coronavirus: US blames Russian disinformation
————————————————————————————
California confirms first possible 'community transmission' of coronavirus as China reports fewest new fatalities in a month
27 Feb, 2020 02:48 / Updated 2 hours agoGet short URL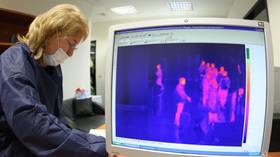 FILE PHOTO. © Reuters / Dimitar Kyosemarliev
Follow RT onCalifornia health officials have detected what may be the first local transmission of the deadly COVID-19 virus in the US – with no known ties to other confirmed cases – as China reported the lowest number of new deaths in weeks.
Adding 29 fatalities to the nearly 2,800 already killed by the lethal pathogen, the latest figures from Chinese authorities mark a sharp decline in daily deaths, even as fears of the illness peak in the US, where the first suspected "community transmission" was reported late on Wednesday.
"The US Centers for Disease Control and Prevention [CDC] today confirmed a possible first case of person-to-person transmission of COVID-19 in California in the general public," the California Department of Public Health said in a statement.
The individual had no known exposure to the virus through travel or close contact with a known infected individual.
Two other American patients who had been confirmed to have contracted the virus while in the US both came in contact with individuals who had recently visited China – where the outbreak was first observed – or those already known to have the virus, according to the CDC. The newest case in California, an individual from Solano County, has had no such close contacts.
The patient, who has yet to be identified, is now receiving treatment at a facility in Sacramento.
ALSO ON RT.COMTrump appoints VP Pence to lead coronavirus response, says US 'totally prepared'
In a press conference earlier on Wednesday, US President Donald Trump assured that stringent measures were in place to prevent further spread of the illness, stating that "whatever happens, we're totally prepared," and that a full-blown outbreak in the country was not "inevitable."
The president's comments contrast with a recent statement from the CDC, which warned that the virus could cause "severe" disruptions to daily life in the US, adding that it was "not so much a question of if this will happen any more, but rather more a question of exactly when this will happen."
To date, 60 Americans have contracted the illness, among over 82,000 cases worldwide, the majority in mainland China. The virus has claimed more than 2,700 lives in total, so far none of them in the US.
ALSO ON RT.COM'Just a question of when': CDC warns Americans coronavirus may cause 'SEVERE' disruption of everyday life
Like this story? Share it with a friend!