A German Investigative Committee is all set to launch a legal action against those responsible for COVID-19 crisis.
Dr. Reiner Fuellmich is one of the top trial lawyers in Germany and is one of four members in a group of lawyers who has investigated and is prosecuting global officials on the pretense that COVID 19 is a deliberate crime against humanity.
Dr. Fuellmich released a video recently that has over 1.4 million views despite being censored by YouTube:
In his video from October 3rd, 2020, he describes how there is no legal doubt about the possibility of a class-action lawsuit against those responsible for the lockdowns.
"Those responsible for [the corona fraud scandal] must be criminally prosecuted for crimes against humanity and sued for civil damages…
"On a political level, everything must be done to make sure that no one will ever again be in a position of such power as to be able to defraud humanity or to attempt to manipulate us with their corrupt agendas."
The move follows India's complaint to the United Nations Human Rights Council seeking compensation from China in addition to a $20 trillion US lawsuit for waging a Biological war in Texas Federal Court. Sources within the security establishment have told GreatGameIndia that there is a growing movement among nations affected with Coronavirus to conduct a Nuremberg-style hearings next year.
Days after it was revealed in an intercepted human intelligence report that Bill Gates offered $10 million bribe for a forced Coronavirus vaccination program in Nigeria, an Italian politician also demanded the arrest of Bill Gates in the Italian parliament. Sara Cunial, the Member of Parliament for Rome denounced Bill Gates as a "vaccine criminal" and urged the Italian President to hand him over to the International Criminal Court for crimes against humanity.
Meanwhile, an American federal judge has ruled coronavirus restrictions by Pennsylvania Governor Tom Wolf as unconstitutional. The ruling means that current lockdown restrictions, including ones that limit the size of indoor and outdoor gatherings, can't be enforced.
Earlier this month, Medical Doctors and Health Professionals of Belgium wrote an open letter to authorities demanding the investigation of WHO for creating coronavirus infodemic faking the pandemic.
In another case, after it was revealed in a shocking investigation that WHO policies on Hydroxychloroquine were based on a fake study by a pornstar and a science-fiction writer, now in an ongoing investigation, a French doctor has testified in parliament that Gilead sent him death threats after he started talking about HCQ as a cure for COVID-19. In another shocking development the President of Madagascar made a sensational claim that the WHO offered him $20m bribe to poison COVID-19 cure.
A recent case in Belarus has exposed the conditions laid by IMF and World Bank for loans being provided for COVID-19. The President of Belarus has exposed that the World Bank coronavirus aid comes with conditions for imposing extreme lockdown measures, to model their coronavirus response on that of Italy and even changes in the economic policies which he refused as being "unacceptable".
Source: Greatgameindia.com
—————————————-
In Great Barrington, scientists declare policy for living with COVID: Shield only the most vulnerable for herd immunity
Oct 7, 2020
From left, Dr. Martin Kulldorff, professor of medicine at Harvard University; Dr. Sunetra Gupta, professor at Oxford University, and Dr. Jay Bhattacharya, a Stanford University professor.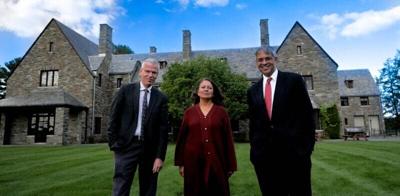 Don't miss the big stories. Like us on Facebook.  
GREAT BARRINGTON — Three top scientists say there's another public health crisis underway, and it is the poor and working class who suffer the most from a COVID-19 policy that also is slowing development of herd immunity.
They say the rise in mental health and substance abuse problems, as well as excess deaths and other medical problems from lack of care, are the result of seven months of lockdowns meant to stop the virus.
A flawed gospel of risk that has been leveraged by politicians, they add, is ruinous to public health as a whole.
And they say they have a better plan: "Focused Protection."
This would expand and fortify ways to shield those most vulnerable to death from infection, while allowing the least vulnerable to live normally and build immunity that will ultimately better-protect the old and weak.
This, they say, will also reduce "devastating" collateral damage that includes economic catastrophe, social harm, and a lack of schooling for children.
In a whirlwind summit at the American Institute for Economic Research last week, three infectious disease epidemiologists drafted and signed the Great Barrington Declaration to propose the idea and launched it online for signatures.
As of Wednesday, more than 8,000 medical and public health scientists and medical professionals have signed it; as well as more than 76,000 from the general public.
The scientists are Dr. Martin Kulldorff, professor of medicine at Harvard University; Dr. Sunetra Gupta, professor at Oxford University; and Dr. Jay Bhattacharya, a Stanford University professor. All three are epidemiologists.
They say ancillary effects of the lockdowns include "lower childhood vaccination rates, worsening cardiovascular disease outcomes, fewer cancer screenings and deteriorating mental health – leading to greater excess mortality in years to come"
They say it is a "grave injustice" to keep students from school, and that the poor are most affected.
"Keeping these measures in place until a vaccine is available will cause irreparable damage, with the underprivileged disproportionately harmed."
When the pandemic hit the U.S. in mid-March, strategies to "bend the curve" of escalating infection have turned into a protracted shutdown of normal life that appears to be continuing until an effective vaccine is ready.
That could take until mid-2021, some researchers say. And time has revealed the dark side of the lockdowns.
The U.S. Centers for Disease Control reported a study that found that in late June, 40 percent of adults were struggling with lockdown-related problems.
"Younger adults, racial/ethnic minorities, essential workers, and unpaid adult caregivers reported having experienced disproportionately worse mental health outcomes, increased substance use, and elevated suicidal ideation," the study says.
The CDC's Sept. 10 data on COVID-19 survival rates show a striking age differential, with a survival rate of 94.6 percent for those aged 70 and up compared to 99.5 percent for those between the ages of 50 and 69. For children and teens the survival rate is 99.997 percent, and for those ages 20 to 49, it is 99.98 percent.
The declaration's authors say policy should be data driven.
"We know that vulnerability to death from COVID-19 is more than a thousand-fold higher in the old and infirm than the young," they wrote. "Indeed, for children, COVID-19 is less dangerous than many other harms, including influenza."
And they say herd immunity is key, and will happen faster when the lockdowns end.
"As immunity builds in the population, the risk of infection to all – including the vulnerable – falls. We know that all populations will eventually reach herd immunity – i.e. the point at which the rate of new infections is stable – and that this can be assisted by (but is not dependent upon) a vaccine."
Critics of the declaration point to a lack of clarity about how to translate it into concrete action. Some also say there is a lack of evidence about herd immunity — whether it can be obtained and for how long.https://8aa55692e4cd06709732c7a0b3ae4e6b.safeframe.googlesyndication.com/safeframe/1-0-37/html/container.html
"We don't know how effective or long-lasting people's post-infection immunity will be," wrote Dr. Simon Clarke, associate professor of Cellular Microbiology at the University of Reading, U.K., who signed an open letter on the U.K. site, Science Media Centre. "Just to find out whether this is possible, would be to consign a great many more thousands of people to their deaths, and many more would be left suffering from the effects of long covid, which even less is well understood."
Officials from Berkshire Medical Center declined to comment, and a spokesperson from Massachusetts General Hospital was unable to reach a medical researcher or physician who was able to comment.
Politics
In a videotaped discussion at the summit, the scientists decried the politics of risk and policy, as well as attempts to shame those who are infected, or those who took risks.
Kulldorff said the young people who have been vilified for gathering closely without masks should be thanked, since they are speeding up herd immunity, though "nobody should go out and deliberately get sick."
He also says "shaming makes no sense from a public health [perspective]."
And all three say shaming could lead to a disease stigma, which is harmful to all public health efforts.
Case in point is the Massachusetts 2-1-1 "snitch line," that since March has field more than 200,000 complaints about people not following rules to curb the virus.
They also say the intersection of politics and health policy has shut down debate and curiosity.
Dr. Bhattacharya said he has to look at the data and "tell the truth."
"I have to say what I believe," he added. "It's unfortunate if we stop that conversation from happening. We have to learn from one another even if we disagree with each other."
Dr. Gupta said that their ideas have been pegged as fringe. But all three suggested many researchers have been unable or unwilling to speak out.
And they say focusing on the virus to the exclusion of all other risks to human health is dicey. They suggest it might also be immoral, given the burden on children and the poor.
"With the lockdown we're really protecting the lower risk people and upper class while we're throwing the lower and working class under the bus," Dr. Kulldorff said